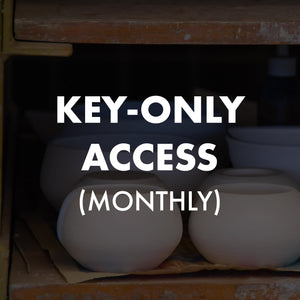 THIS PRODUCT IS ONLY AVAILABLE FOR PURCHASE BY INVITATION FOLLOWING APPROVAL BY TACTILE ARTS STAFF. (Any purchases made in error will be refunded).
This hire option sees the hirer supplied with a key to the studio and amenities, which allows 24-hour entry, except during pre-arranged workshops, dates and times for which are displayed on the studio calendar. 
This studio hire option includes two shelves in the drying rack for drying your work. This option does not include any storage space for materials and tools.
Signing up for this subscription means that a $60 payment will be taken on the 1st day of each month for the duration of the hire.