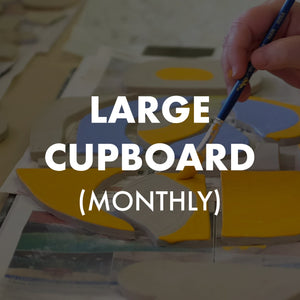 THIS PRODUCT IS ONLY AVAILABLE FOR PURCHASE BY INVITATION FOLLOWING APPROVAL BY TACTILE ARTS STAFF. (Any purchases made in error will be refunded).
Tactile Arts offers a 7-Day studio hire access option to Tactile Arts members who have an active association with the organisation, and a demonstrated history of correct and responsible studio and equipment use, as determined by Tactile Arts staff.
Monthly hire of a large cupboard sees the hirer supplied with a key to the studio and amenities, which allows 24-hour entry, except during pre-arranged workshops - dates and times for which are displayed on the studio calendar.
A key deposit of $30 is also required under this option.
Payment for this studio hire option is by monthly auto-renewing subscription. Payments are processed on the first of each month.