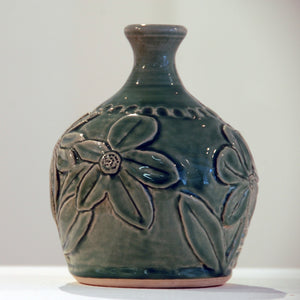 with Gerald Clapham    
In this course students will learn intermediate throwing techniques, as well as refining their own techniques with the support of the tutor, the tutor will demonstrate throwing various shapes, two- piece throwing and lid options.
The aim of this course is to assist students who have some experience on the wheel, to learn new throwing techniques or refine their own with support from the tutor. To this end the tutor will start with some demonstrations of various shapes, two-piece throwing and lid options.
The main part of the course will be open for students to work individually to resolve problems they may be experiencing or to learn new techniques as they desire with the assistance of the tutor.
Saturday and Sunday

PLEASE READ CAREFULLY BEFORE BOOKING: Only suitable for intermediate students with prior throwing experience (if you are a beginner to throwing please consider one of our beginners ceramic courses - new dates are added every few months). Students are asked to supply their own ceramic tools and clay for this course. Some tools will be available for use during the course and clay is available for purchase from Studio Elevenlee, please contact for details. This course is purely a throwing intensive and does not include decorating, glazing or firing. However, if students wish to continue with their work, Tactile Arts has a fully equipped ceramic studio for member use and kilns available for use by the public and members. Please contact the Tactile Arts office programs@tactilearts.org.au or on 08 89816616 for further inquiries and respective fees, these can also be found on our website's ceramic studio page.
Tactile Arts members can access their workshop discount by entering BEYOND MEMBER into the discount code field at the checkout.